VASCO DIGIPASS Software Virtual DIGIPASS

Broadband Traffic Management Solutions for Intelligent Networks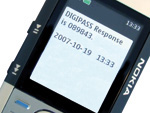 Vasco Products
VASCO Virtual DIGIPASS
VASCO Virtual DIGIPASS
#Virtual-DIGIPASS
Get a Quote!
Click here to Jump to Pricing!
Virtual DIGIPASS offers a user-friendly and cost efficient solution for strong user authentication and e-signatures. After the user has entered his user ID and PIN, the one-time password will be immediately sent to the mobile phone via SMS.
Based on two-factor authentication - something you know and something you "already" have - Virtual DIGIPASS adds another layer of security to existing log-in functions where static passwords are still in use. This authentication solution can be used with existing ordinary cell phones, text pagers and wireless PDAs eliminating the rollout of hardware or software based devices.
Backup service in case of token loss
Strong authentication has extended its borders. With Virtual DIGIPASS your one-time password is sent to your portable device. Ever forgotten or even lost your token? Having to contact the IT department so you can log in?
Virtual DIGIPASS is the solution. VASCO created the concept to offer you an alternative authentication method in case of token loss. It can be used with ordinary cell phones, text pagers and wireless PDAs. Eliminating the roll-out of hardware and software based tokens. And reducing help desk costs.
Virtual DIGIPASS can be implemented for different services such as internet banking, e-Commerce, e-business and remote access.
Primary or backup authentication? The choice is yours
Virtual DIGIPASS can be used either as a backup or primary authentication method.
Primary Virtual DIGIPASS is very similar to a standard DIGIPASS. It is imported into the IDENTIKEY database and then assigned to a user. No need for hardware or software authentication devices.
The backup Virtual DIGIPASS allows you to login when you don't have your DIGIPASS with you. The OTP is sent by text message to your mobile phone. In this way, Virtual DIGIPASS guarantees a continuity of service without requiring helpdesk support.
Features:
Compatible with VASCO's authentication server
Virtual DIGIPASS is available for IDENTIKEY. It supports all IDENTIKEY auto-administration features. It is also available in an API so that you can adapt it into your existing applications.
Message Delivery Component
The Virtual DIGIPASS functionality operates with an additional component called the Message Delivery Component (MDC). It interfaces with the gateway service to send a one-time password to your cell phone. The MDC acts as a service, accepting messages from the IDENTIKEY server. These messages are then forwarded to a text message gateway via the HTTP/HTTPS protocol.
Licensing
Virtual DIGIPASS requires additional licensing and is available for every IDENTIKEY installation. On specific VACMAN Controller based integrations, a relevant licensing must be implemented.
Benefits of Virtual DIGIPASS:
Alternative authentication method
Virtual DIGIPASS is an alternative authentication method in case of device loss. Device loss implies several costs:
your IT-helpdesk must reset the account of the user to a static password
loss of productivity because you cannot log in to your applications.
Reduce hidden costs and eliminate productivity loss
Virtual DIGIPASS is the perfect solution to reduce and even eliminate these (hidden) costs.
benefit from strong two-factor authentication at all times
without helpdesk interaction
guarantee the continuity of services
while maintaining secure authentication
no need for hardware or software devices
resulting in a very low total cost of ownership and roll out
no expertise required for integration
and fully compatible with IDENTIKEY Server software
Vasco Products
VASCO Virtual DIGIPASS
VASCO Virtual DIGIPASS
#Virtual-DIGIPASS
Get a Quote!