VASCO DIGIPASS Software DIGIPASS for Web

Broadband Traffic Management Solutions for Intelligent Networks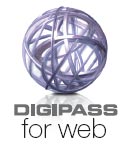 Vasco Products
VASCO DIGIPASS for Web
VASCO DIGIPASS for Web
#Digipass-for-Web
Get a Quote!
Click here to Jump to Pricing!
Overview:
With DIGIPASS for Web VASCO offers a comprehensive security solution for Internet banking users, for users who read their newspaper online and/or occasionally make small purchases or perform transactions online, etcetera.
DIGIPASS for Web is the ideal product to replace password-based or paper-based authentication systems with a security system leveraging strong authentication in order to achieve a higher security level.
For this type of users, there is a security need that exceeds the security level provided by static password systems and a need for an authentication solution with a low 'total cost of ownership', which is easy to use and flexible. DIGIPASS for Web provides an ideal solution for these needs.
DIGIPASS for Web supports one-time password generation and data signing functionality, leveraging the proven DIGIPASS algorithms. The security concept of DIGIPASS for Web is based upon the knowledge of a password and the possession of a (DIGIPASS) secret stored in the user's PC.
The operational DIGIPASS for Web product consists of a Java Applet -which is downloaded when needed- and a password protected "cookie" comprising the DIGIPASS secret. To ensure a low 'total cost of ownership', DIGIPASS for Web is leveraging sophisticated concepts for user self-registration & activation and secure self-servicing (e.g. password reset, registration, 'Question & Answer' management).
Registration and Activation
The registration of DIGIPASS for web users is easy and similar to the typical enrollment for static password systems. The user completes a registration form comprising his user ID, e-mail, password, secret question and secret answer.
After registration an activation e-mail is send to the user, including an activation link. During activation, the user receives a secure login applet -in which he has to enroll his password. A "cookie" with the DIGIPASS secret is installed on the user's PC. From that moment on DIGIPASS for Web is ready for use.
Usage
For secure log-on to a website or for transaction or document signing, the web server sends a webpage comprising a secure applet, to the browser of the user. The user is requested to enter his password. After password validation, the secret DIGIPASS key stored in the "cookie" is revealed and used in combination with the applet to perform requested security functions.
Validation
The validation of one-time passwords and signatures generated by DIGIPASS for Web is done by VASCO's VACMAN Controller. To simplify integration in the Web server DIGIPASS for Web is delivered with the necessary framework (web-pages, scripts, etc.).
Benefits
Hassle-free strong authentication
No installation of software or hardware at the client side
Password protected
No paperwork
No handling of hardware devices
Swift and easy user self-service
Completely automated system
Smooth upgrade path to hardware DIGIPASS
Extremely low 'total cost of ownership'
Platforms Supported:
DIGIPASS for Web is supported by today's all commonly used browsers, a.o. Microsoft Internet Explorer 6.0 and higher and Mozilla FireFox 1.5 and higher.
Documentation:
Download the VASCO DIGIPASS for Web Data Sheet (.PDF)
Vasco Products
VASCO DIGIPASS for Web
VASCO DIGIPASS for Web
#Digipass-for-Web
Get a Quote!