VASCO DIGIPASS 815

One-time password functionality for existing banking smart cards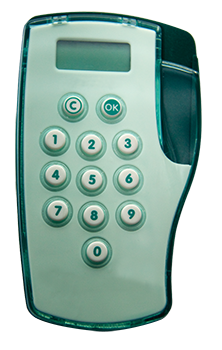 Vasco Products
VASCO DIGIPASS 815 Series
VASCO DIGIPASS 815
#Digipass-815
Get a Quote!
Click here to Jump to Pricing!
DIGIPASS 815 is designed to offer one-time password functionality for existing banking smart cards. DIGIPASS 815 has a transparent plastic top through which the color of the keypad is visible. Logos can be silkscreen printed on the inside of the plastic making the logo resistant to wear and tear.
The special cut-out area in the plastic keeps the embossed bank card number visible even when the smart card is inserted in the reader. This makes it easy for end users when they need to enter both the card number and the one-time password into an application.
The device has a one line display with semi alphanumeric characters, for showing simple informative messages such as 'PIN'. Two function buttons are available to confirm or cancel the input. The device has no on/off button and can only be powered by inserting the smart card.
DIGIPASS 815 has no real-time internal clock and can therefore not support time-based security algorithms. It also has limited processing power restricting its use to less complex banking cards or to banking cards optimized for making one-time password generation straightforward. DIGIPASS 815 cannot be used for EMV-CAP applications.
Expected battery lifetime for the DIGIPASS 815 model is typically four to seven years (depending on the number of uses per day and on the smart card power consumption).
Use
DIGIPASS 815 has been the most commonly used model for many years, in combination with first generation bank cards. For existing ASP applications based upon DIGIPASS 815, the product is still available.
Vasco Products
VASCO DIGIPASS 815 Series
VASCO DIGIPASS 815
#Digipass-815
Get a Quote!