VASCO DIGIPASS Plug-In for Novell

Highly Secure User Authentication for Highly Secure Network Access
Vasco Products
VASCO DIGIPASS Plugin Novell Series
VASCO DIGIPASS Plugin Novell
#Digipass-Plugin-Novell
Get a Quote!
Click here to Jump to Pricing!
Overview:

With increasing numbers of remote users needing to access client data, confidential documents, account records and other sensitive information, the issue of security has become a top priority for the business community. VPNs and web access have made it possible to gain access to critical data from anywhere and at any time.
However, with added convenience comes additional risk. Unauthorized users could access published applications and confidential business data if the only protection in place is a weak static password. The impact of identity theft and unauthorized access to customer and business data can destroy both customers' trust and a firm's reputation.
VASCO offers Strong Authentication based on one-time password technology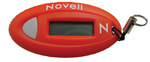 As a world leader in strong authentication, VASCO Data Security is offering VACMAN as the de facto server software for protection of office applications for enterprises of all sizes. VASCO's DIGIPASS technology has proved to be the most secure solution, replacing static passwords with dynamic one-time passwords.
VASCO's DIGIPASS method for NMAS
VASCO, the leading provider of strong user authentication security, has joined forces with Novell to offer a secure, affordable and user friendly authentication solution for:
Remote access
Web applications
Local area networks
Integrated solutions
VASCO's Novell-certified solution provides several key differentiators which make it unique in relation to any other authentication product available in today's market. It is a tremendous opportunity for any enterprise looking to add a strong layer of authentication security. Customers that have taken advantage of this offering include organizations in the fields of health services, finance, insurance and education.
Easy integration without an infrastructure overhaul
VASCO Strong User Authentication easily integrates with NMAS without the need for any client changes and without undermining any existing software/application functionality. This approach allows an easy roll-out of an additional security layer. The weak static password used for remote access is replaced by a strong dynamic password generated by VASCO's DIGIPASS. As the user's static password never has to cross the wire, it is not subject to potential attacks.
VASCO's DIGIPASS technology will initiate an authentication session by intercepting the user ID and one-time password (OTP) submitted by the user. Once these are approved, DIGIPASS method for NMAS will transparently authenticate the user and grant access to the Novell network.
End User Convenience
At customer login, DIGIPASS method for NMAS validates the submitted user credentials. Once validated, the user can be granted access to all authorized applications. Because it integrates directly with NMAS, the new authentication process is transparent to the end-user, and does not require any additional steps or new logon screens. The end-user's experience is unaffected, while the organization enjoys the increased security that comes with two-factor authentication.
Features:
Benefits of the Vasco and Novell Partnership
The VASCO and Novell partnership provides some key differentiators that are not available from other authentication vendors:
Native Integration
The VASCO solution does not require acquisition and management of an additional authentication server, thus reducing both the cost and the complexity of deployment
Full Interoperability with all DIGIPASS Products Novell supports DIGIPASS response-only and challenge- response authentication modes as well as all major DIGIPASS management functions (reset, test, and unlock)
Novell Certified
VASCO has obtained Yes, Tested and Approved certification through third-party testing facilities, to insure the reliability and functionality of the integration.
VASCO's Strong Authentication for NMAS features:
Novell Certified Strong User Authentication for Novell iChain, SecureLogin, eDirectory, BorderManager and other Novell applications
Two-factor authentication: replaces insecure static passwords with highly secure dynamic one-time passwords
Native integration with NMAS
No additional appliances or authentication server to acquire and manage
No complex programming or lengthy installation for network administrators
Centralized User Management
Low Total Cost of Ownership
Low management costs
Use of durable and competitively-priced DIGIPASS
End-User Convenience - VASCO provides an authentication platform for multiple OTP form factors including:
One Button DIGIPASS
Pin Protected DIGIPASS
DIGIPASS for Mobile Phone
Virtual DIGIPASS (OTP over SMS)
Key Features and Benefits
Fully Integrated with NMAS
Allows customers to leverage eDirectory investment by offering integrated security features
Eliminates the need for third-party authentication servers
Replaces insecure logon (username and static password) with highly secure strong authentication based on one-time password technology (OTP)
Reduces the risk of online fraud, password theft, and other attacks on organizations' networks and resources
Automated installation/integration process
Rapid deployment to the end-user
Full redundancy and automatic replication to optional backup authentication server
Self-service web user interface
Password auto-learn on first logon
Role-based user management
Real-time auditing and validation
Supported Platforms and Compapatibility:
Compatible with Novell Modular Authentication Service
Compatible with eDirectory, iChain, SecureLogin, BorderManager, Access Manager, Groupwise, iManager
Compatible with SUSE Linux Enterprise Desktop 10, Server 9, Server 10, Real Time 10 SP1, Netware

Vasco Products
VASCO DIGIPASS Plugin Novell Series
VASCO DIGIPASS Plugin Novell
#Digipass-Plugin-Novell
Get a Quote!