VASCO DIGIPASS Software DIGIPASS for Mobile Enterprise Security Edition

One-Time Passwords with no additional hardware needed, and no hassle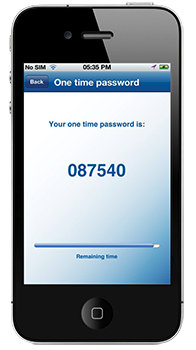 VASCO Products
VASCO DIGIPASS Mobile Enterprise Security
VASCO DIGIPASS Mobile Enterprise Security
Click here to Jump to Pricing!
Overview:
DIGIPASS for Mobile Enterprise Security Edition is the easiest way to deploy strong authentication on portable devices within your company. No additional hardware is needed. The information is sent to your users who are directed to the relevant application store for the software download. VASCO offers a secure provisioning service that will handle the distribution and logistics, so you can concentrate on your core business.
Easy to Deploy: Off-line provisioning service
Strong authentication has never been easier to deploy than with VASCO's off-line provisioning service.
Step 1: The end-user connects to the VASCO DIGIPASS for Mobile server and enters his mobile phone number.
Step 2: The end-user receives an SMS message containing a link to download DIGIPASS for Mobile Enterprise Security Edition and is asked to proceed with the download.
Step 3: Once the application has been downloaded to the device, the end- user simply has to provide the activation information provided by the IT department using a 20-digit code or a QR-code.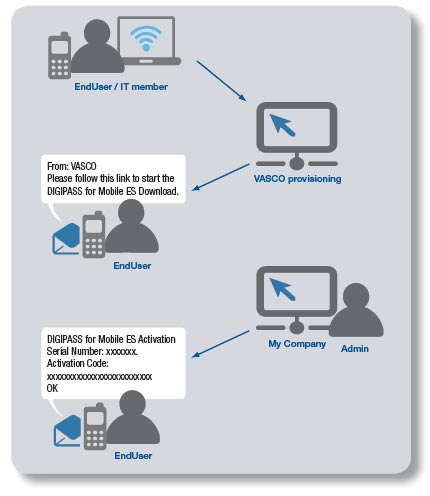 Features:
Convenience
DIGIPASS for Mobile Enterprise Security Edition provides two-factor authentication for enterprises and SMBs to secure the access to their SSL VPNs, extranets and online applications. This solution brings one-time password technology to a new level, allowing end-users to use their mobile phones as their authentication devices. DIGIPASS for Mobile currently also supports QR-codes, making the end-user experience even smoother.
High End User Acceptance
End-users will be free to do business securely from a mobile device or a laptop while travelling anywhere in the world. They don't need to carry additional devices, and no end-user training is necessary. An embedded daylight saving adjustment feature allows frequent travelers to use their DIGIPASS for Mobile without any restrictions.
Security at any Time
To address the security risks posed by online access, DIGIPASS for Mobile Enterprise Security Edition supports time-based algorithms in addition to event-based algorithms. No longer are the users' credentials at risk between logins: with timebased authentication credentials which automatically expire after a configurable time-out, or immediately after their initial use.
Compatibility
Hundreds of handsets from different mobile phone manufacturers have been formally tested, from J2ME compliant devices, BlackBerry , Android , iPhone and Windows Phone devices. DIGIPASS for Mobile Enterprise Security Edition is also compatible with all VASCO technologies (VACMAN Controller, IDENTIKEY Server and aXsGUARD , iPod ).
Technical Specifications:
Technical Specifications
Authentication Mode
Response only, Time-based
OTP Length
6
OTP Format
DECIMAL
Language
English
Documentation:
Download the VASCO DIGIPASS for Mobile Enterprise Security Edition Data Sheet (.PDF)
Download the VASCO DIGIPASS for Mobile using Blackberry Enterprise server Data Sheet (.PDF)
VASCO Products
VASCO DIGIPASS Mobile Enterprise Security
VASCO DIGIPASS Mobile Enterprise Security